Virginia Beach
Virginia Beach is a well known vacation beach destination that attracts millions of visitors every year. It is located in the South Hampton Roads area of Virginia. The southern end of the Chesapeake Bay Bridge is located in Virginia Beach and the Chesapeake empties into the Atlantic Ocean just of Virginia Beaches' coast. The beaches are world famous - wide, full of white sand, lifeguard protected, and free! The main beach area that most visitors are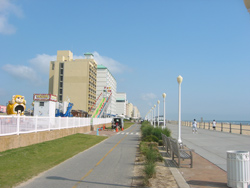 familiar with is miles long. This stretch of the beach is the commercial and tourist heart of the area. Here you will find hotels and motels located right on the beach and, on the main north-south streets that parallel the beach, restaurants, shops, and more hotels. Virginia Beach has come a long way since the city's first renowned resort hotel – the Cavalier Hotel – opened its doors in 1927.
There are many other diversions available locally and in the surrounding area that help keep most vacationers busy even if spending the day at the beach is not your favorite pastime. There are state parks, reserves, historic landmarks, golf courses, bicycle routes, and a fishing piers found here.
Virginia Beach is easily accessible by major highways (I-64 via I-264, Route 13 Chesapeake Bay Bridge), by airport (Norfolk with connections to Virginia Beach via bus), Amtrak (Newport News Station with bus service to Virginia Beach), and through Greyhound buses that run from numerous major cities along the eastern seaboard.
Return to the top of this page
---